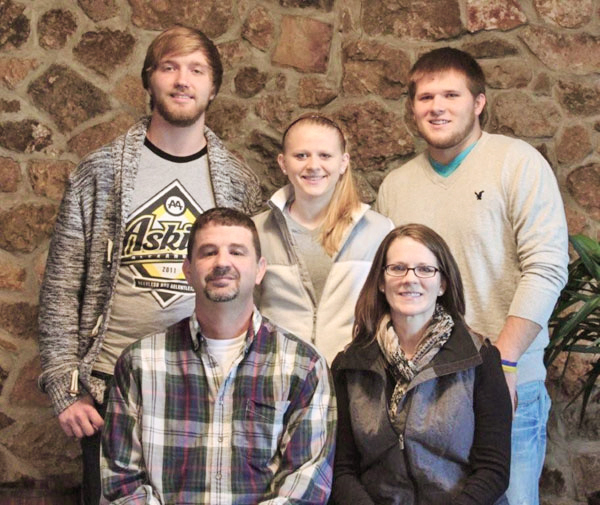 Southern Gold sits in the southern part of Indiana on highway 60, between Salem and Campbellsburg. We are conveniently located just 30 minutes off of I-65 and 45 minutes off of I-64.
My name is Bill Rosenbaum and I would like to give you a little bit of my background in the swine industry and my vision for the future of Southern Gold Sires. Before we get into that though, I would like to sincerely thank the Shaffer family for giving us the opportunity to form this partnership with them.
I have been in the commercial swine industry since 1982, starting right out of high school on my grandparent's 100 sow, farrow-to-finish operation. In 1992 we purchased my great uncle's farm and expanded to a 300 sow, farrow-to-finish operation. The last 10 years we have been a farrow-to-wean facility. We also farm with my Dad and brothers raising beef cows and row crops.
My wife's name is Alisa. I have one son, Kendal, who is currently studying civil engineering at Rose-Hulman Institute of Technology. I have one step-son, Sterling, who is studying business at the University of Southern Indiana. I also have one step-daughter, Shelby, who is still in high school.
I have always had a deep passion for the show ring side of the swine industry. I have been involved in the show side some and had success at the local levels, but there was always a drive in me that wanted to achieve success in the industry at the higher levels. Sometimes you just have to wait until the time is right and wait until an opportunity is presented to you, because the Lord has a plan for everyone. I have no doubt in my mind that this is His plan for me and my family at this point time in time.
First and foremost here at Southern Gold, we are going to have boars that will make hogs better. We will always be looking for the best boars to be placed in our stud so that you, our customers, can raise hogs with the ability to win at all levels of competition. We will also strive to give you the best semen quality and customer service available. Believe me, I have been on the customer end of this business for 30 years, and I know how important it is to get quality semen when you need it, whether you have 1 sow or an enormous sow herd. Southern Gold will treat you how we have always wanted to be treated, because we know that our success depends on your success.