Awestruck
Struck A Nerve x Power On 282-7
Yorkshire
Ear Notch: 38-3
Registration#: 634580003
Winter Price: $100/dose
-
Bred by: Hofshulte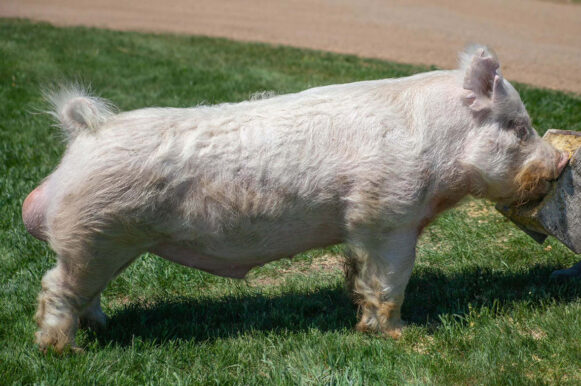 No introduction needed for Awestruck! He is as influential as they come and we want to thank Olsen's for getting him here at Southern Gold.

 

Awestruck has sired an abundance of Champions at all levels including his most recent win – the Champion Yorkshire Gilt at the '23 NSR WTC.

 

From Olsen's: Big legged, good footed, great fronted with a natural high head carriage, wide chested, square topped and the best set, flex, squareness and drive off those rear legs that can be found.

 

Here's a pure York boar that's even good enough to make an impact on the best cross sows out there. She is the dam of UPROAR and even before her STRUCK A NERVE litter she had produced in excess of $100,000. No AMPED UP in this pedigree. Granddams on both sides of AWESTRUCK'S pedigree have had 10 and 12 parities.