Spud
Shattered x WhatEver It Takes
Berkshire
Ear Notch: 23-1
Registration#: 156703001
Regular Price $175/dose
Overrun Price $100/dose
Bred by: Decker Showpigs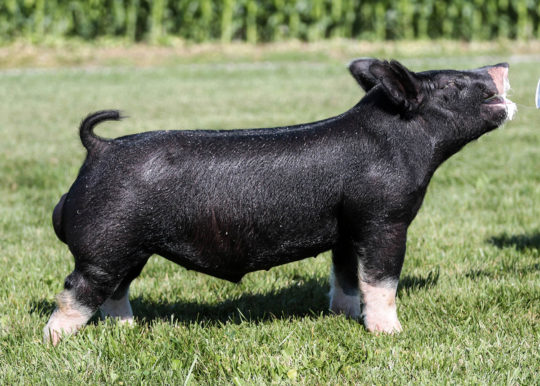 Spud is another great on-farm purchase from Decker Showpigs. Chad told me about this young boar that he had and kept saying that he was pretty special. Most people know the Decker's for their crossbreds, but in the past couple years they have been leaving their mark on the Berkshire breed as well. Spud is getting to be a favorite of people that come in for boar tours. This guy is so cool to look at. He really is a different type of Berkshire. He's a little shorter backed, more compact, and square as you can make one. Spud has big feet and legs, yet still has that super extended, very unique head and neck on him.
Now let me tell you a little bit about his background that will make you like him even more. His mother was a champion Berkshire at the 2018 Ohio State Fair and she was also a many time jackpot champion. His mothers littermate was the reserve champion barrow at the Indiana State Fair Junior show. Another littermate to his mother was the champion Berkshire Gilt at the Kentucky State Fair and was named overall top five at multiple shows.
It just keeps getting better. Spud's grand dam was the reserve Champion Berkshire gilt at the 2017 OYE, then she was the mother of the reserve supreme overall gilt at the 2018 OYE, both of which were shown by the Varner Family. Spud was a no-brainer to bring in to add to our Berkshire lineup. One of our goals this summer was to put together a set of Berkshire boars that could match any other boat stud's set. I am very happy with the set that we have to offer and with the strength that Spud adds to it.